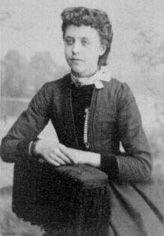 Jennie Amalia was born in Borås March 12, 1874. She was christened March 14 and the vicar's name was Kjöllerström.
Godparents were the neighbors Sven Karl Svensson, August Johansson and their wives.
Jennie's father was Johannes Svensson, born May 15, 1825 in Naum, Skaraborgs County and her mother was Johanna Jansdotter, born July 5, 1839 in Hällstad, Älvsborgs County. They were married October 12, 1864 in Borgstena, Älvsborgs County.
Jennie had two brothers, Emil, born August 7, 1865 and Johan August, born November 14, 1867. When Jennie was only two years old her mother died of pneumonia April 13, 1876.
The next year in November 1877 Johannes married Kristina Wilhelmina Larsdotter. Kristina was born November 19, 1850 in Gällstad, Älvsborgs County. At the time for the marriage she was working as a maid and Johannes was a worker in Borås.
Jennie got a half brother, Axel Wilgot in June 11, 1878. In April 28, 1882 Emil Johnson emigrated from Borås to USA. He had been working in a factory to produce yarn.
The rest of the family moved to Gudmundsgården, Gällstad, Älvsborgs County in May 29, 1885, while Johan August stayed in Borås and worked in a color factory.
Jennie got a half sister, Judith, in December 21, 1888. November 8, 1889 Jenny Amalia moved alone to Skogsryd, Torpa parish in Borås. She worked there as maid.
Jennie Amalia and her brother Johan August traveled in June 5, 1891 from Gothenburg by boat to England. When they came to England, they were traveling by train to get to the western part of the country.
June 10, 1891 they went with a ship from Liverpool in England to the great country USA.
---
Gudmundsgården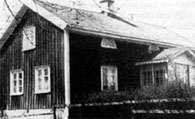 Gudmundsgården in Gällstad, Västergötland.
The family moved here from Borås 1885.
It was Jennie Amalia with her father, stepmother and her half siblings Axel and Judith.
Her brother Emil was at this time emigrated to US and Johan August was living and working in Borås.