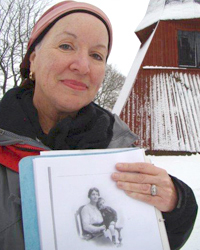 My great grandmother Amalia
immigrated 1886 from Marka in Västergötland, Sweden.
When I visited Sweden in December 2008, Yvonne helped me to find tombstones of some of my ancestors. Yvonne helped me get connected with a man who had a lot of knowledge of the farms and buildings where my ancestors had lived.
I know we saw things through his research that we, as casual tourists, would never have thought to see.
Yvonne also provided links to generations that I had not been able to find myself using online resources.
Even with all the Internet access we have from across the world, a local onsite researcher can save many, many hours of frustrating searches.
I can't thank Yvonne enough for all that she did in making our visit to Falköping so productive, interesting and thoughtful to my needs. Thank you again for making my time in Falköping so full of interest and meaning.
The family tree I received from Yvonne complements my own and contains 42 ancestors.
Marlou Imes, California, USA
Marlou Imes March 6, 1950 - April 2, 2009. Born in Los Angeles and died in Menlo Park shortly after her visit in Marka, Sweden.