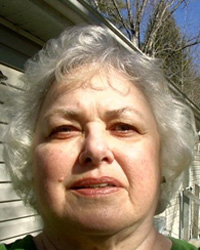 Dear Yvonne, WOW!
Thank you so much for finding the info on my mother! Now I can be happy about the family background.
My mother was Rosa Maria Lindblad, born May 4, 1893 in Sweden and my father was Axel Joel Heaman (Hedman) born July 13, 1885 and died June 22, 1971. My father changed his name from Hedman to Heaman when he came to the US in 1913.
What a wonderful document that you have prepared for me. And to also find living family member´s is an unexpected bonus.
I have much to thank you for this past year. You put me in touch with relatives that I didn't know existed.
I am having a lot of correspondence with them.

My relation to Donna DuBois, who you also helped with genealogical research, is that Donnas' grandfather Joseph Lind was my godfather.
Ruth  Heaman Brown
The Appalachian Mountains in North Carolina